Patrick Kochakji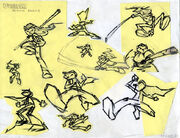 is the storyboard supervisor and occasional storyboard artist altogether for roughly a third of the
episodes
of
The Life & Times of Juniper Lee
. He has worked on other Cartoon Network shows such as Megas XLR and Squirrelboy. He has posted some of his work on Juniper Lee on his blog
[1]
and his portfolio
[2]
.
A list of other crew members who worked on the show can be found here: Production credits
Storyboard Artist Edit
It's the Great Pumpkin, Juniper Lee (with David Chlystek)
Star Quality (with David Chlystek)
Dream Date (with David Chlystek)
Feets Too Big (with Jennifer Coyle)
Out of the Past (with Brian Larsen)
Te Xuan Me? (with Rafael Rosado)
The Kids Stay in the Picture(with Rafael Rosado)
Storyboard Supervisor Edit
It's Your Party and I'll Whine If I Want To (2005)[3]
I've Got My Mind on My Mummy and My Mummy on My Mind (2005)
New Trickster in Town (2005)
It Takes a Pillage (2005)
I'll Get By with a Little Help from My Elf (2005)
Magic Takes a Holiday (2005)
The World According to L.A.R.P. (2005)
Take My Life Please (2005)
Meet the Parent (2005)
Monster Con (2005)
References
Edit
External links
Edit
Ad blocker interference detected!
Wikia is a free-to-use site that makes money from advertising. We have a modified experience for viewers using ad blockers

Wikia is not accessible if you've made further modifications. Remove the custom ad blocker rule(s) and the page will load as expected.