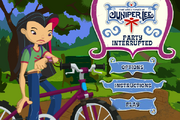 Party interrupted
was the first online game to be made based on the show and is specifically based on the first episode of season one,
It's My Party and I'll Whine if I Want To
.
Summary/How to play
Edit
While you were having fun at Jody's birthday party, you received the news that the Racatan was loose. You must reach the woods and save the city from the clutches of that giant hamster.
Travel with your bicycle across the difficult roads of the woods to find the Racatan. Try to complete the level in time avoiding the obstacles.
Game controls
Edit
Left and Right Arrow keys - Move
Up Arrow key - jump
Jump over obstacles to reach the Racatan, then use the same keys in the next level, surfing the Racatan.
There seems to be just one level and at the end of it, the player must defeat the Racatan by sliding it down a large hill, similar to the show.
Good ending
Edit
Bad ending
Edit
BAD LUCK!
Try again to free the world from the clutches of the Racatan so that you can return to the party.
Characters
Edit
The music playing in the background is not from the show but is most likely based on music heard in the show itself.
Ad blocker interference detected!
Wikia is a free-to-use site that makes money from advertising. We have a modified experience for viewers using ad blockers

Wikia is not accessible if you've made further modifications. Remove the custom ad blocker rule(s) and the page will load as expected.