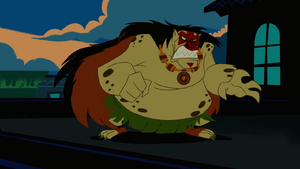 Donnie is a large Hawaiian-themed demon, who attacked Juniper Lee on the roof of the Orchid Bay Movie Theater. He summons a Shark-o-dile to combat June with, but she ends up kicking both him and his monster through the worm hole he conjured it from. Realizing how much of a problem June really is, he employs a Helper Elf to sabotage her, and put her out of commission long enough for him to summon a Cabana Beast to destroy the city with. His plan ultimately fails when June directs a Leviathan Fog to attack his Cabana Beast.
He appears in I'll Get By with a Little Help from My Elf.
Summoning Donnie has the power to summon all sorts of magical creatures to do his bidding. So it's not often that he takes part in actual fights himself.
Ad blocker interference detected!
Wikia is a free-to-use site that makes money from advertising. We have a modified experience for viewers using ad blockers

Wikia is not accessible if you've made further modifications. Remove the custom ad blocker rule(s) and the page will load as expected.