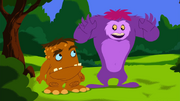 Cletus and Gus are two monster best friends who live somewhere in June's neighborhood and visit the kids often whether they have a magical or mundane problem. They are usually invited to group monster parties or gatherings at the Lee household as well, and both seem well-informed on monster history and customs. Gus is the smarter of the two and sometimes speaks in more unusual or sophisticated terms. Cletus has attention and memory problems and likes snacking on anything. Both enjoy watching monster wrestling matches on television.
They both have wives and kids who appear in "It's the Great Pumpkin, Juniper Lee".
Cletus is voiced by Jeff Bennett and Gus is voiced by Bradley Dee Baker, both regulars on the show voicing different antagonists such as Loki, Skeeter, Mitch the Enchanted Rhinoceros and Taylor.
Appearances
Edit
Ad blocker interference detected!
Wikia is a free-to-use site that makes money from advertising. We have a modified experience for viewers using ad blockers

Wikia is not accessible if you've made further modifications. Remove the custom ad blocker rule(s) and the page will load as expected.